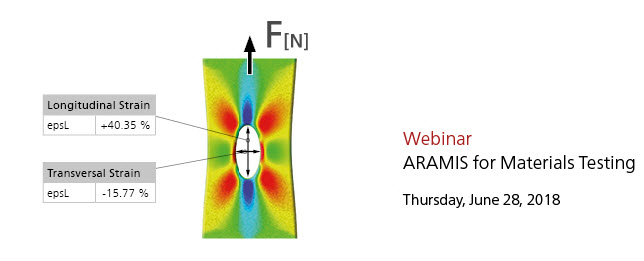 Whether you are a CAE engineer working with material models for numerical simulations or a test engineer characterizing the mechanical properties of materials, you know that working with accurate material parameters is crucial for taking the right decisions during the design phase of your product to ensure the best performance over the entire life cycle.
Digital image correlation is a versatile and powerful analysis technique for measuring 3D data for deformation analysis of both materials and components.
On June 28, 2018, at 9:00 a.m. CEST, 1:00 p.m. CEST and 5:00 p.m. CEST, GOM invites you to the webinar "ARAMIS for Materials Testing" held in English and German to learn how ARAMIS will enhance your testing capabilities in:
Bending tests
Shear tests
Bulge tests
Nakajima tests
Compression tests
Tensile tests
Biaxial tensile tests
Hole expansion tests
The webinar will take about 30 minutes.
Register for the webinar in English:
Register for the webinar in German: