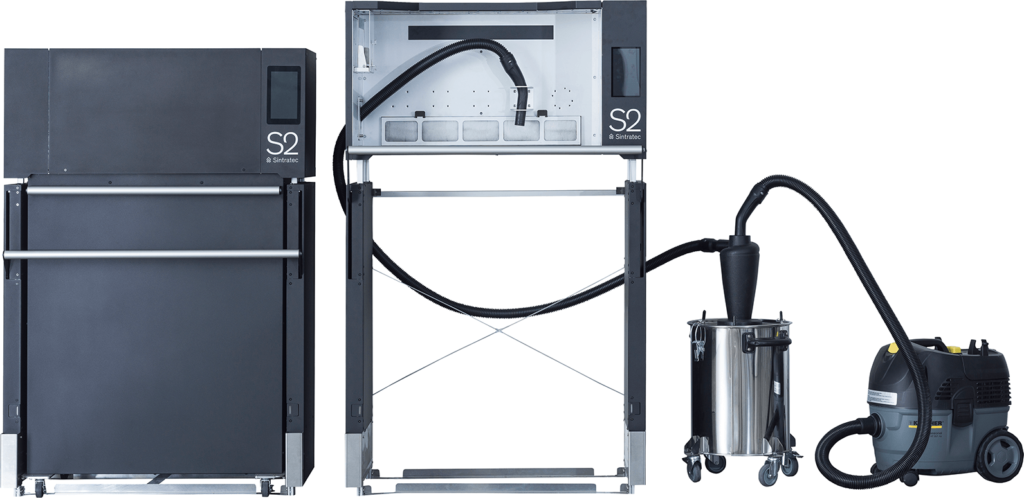 SINTRATEC S2
The compact and expandable SLS system
With Sintratec S2, the new scalable compact system, you can turn your ideas into reality within a short period of time, layer by layer, at high speed. The modular SLS production system can be expanded as needed, and adapts perfectly to your needs. Harness previously unimagined potential in professional prototyping and optimize your applications.
The processes of material preparation, printing and depowdering are integrated in a closed and semi-automatic system, which is new and unique in the field of selective laser sintering.
MODULARLY DESIGNED AND SELF-CONTAINED
The Sintratec S2, the affordable all-in-one solution, allows you to minimize downtimes and beneft from cost-effective operation. You can carry out a material change within a short period of time and tedious cleaning processes are a thing of the past.
The selective laser sintering system consists of the Laser Sintering Station (LSS), the Material Core Unit (MCU) and the Material Handling Station (MHS). Together these modules make up a uniquely self-contained process system for additive manufacturing.
Once high-quality SLS printing in the Sintering Station is completed, the printed objects are then conveniently and cleanly depowdered in the Handling Station. The ingenious Material Core Unit allows you to easily switch from one print material to another and reduce downtimes. Thanks to the modular system design you can expand your SLS machinery as needed.
SINTRATEC S2 LASER SINTERING STATION (LSS)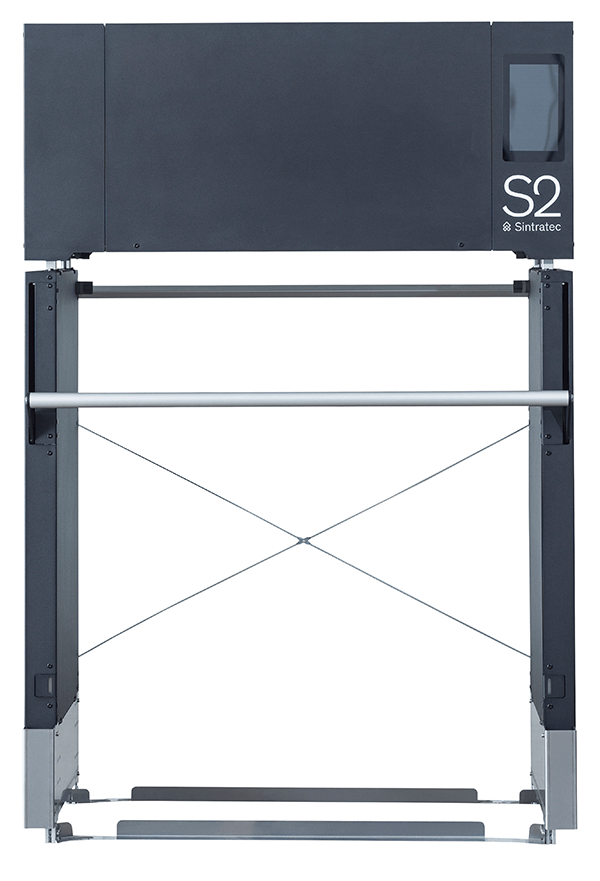 The Sintratec Laser Sintering Station's cylindrical printing volume means you get consistent and homogeneous printing results. You can follow your print job live at any time and evaluate the surface of the individual printed layers in real time with the integrated high resolution camera. The precise laser scanning system enables improved repeat accuracy and fast printing processes. The sophisticated heating system gives your SLS parts a high-quality surface finish.
Faster printing due to a shorter preparation time
Precise laser scanning system
Eight controlled heating zones for optimum printing processes
X-Y laser scanning system for fast printing
High-resolution camera for real-time evaluation
Touchscreen for direct operation
Network connection for remote control and monitoring
Contactless point measurement for powder surface temperature control
Multi-zone heating
| | |
| --- | --- |
| Height × width × depth | 1,500 × 1,100 × 750 mm |
| Weight | 72.5 kg |
| Power supply | 230 V | 11 A max | 50 – 60 Hz |
SINTRATEC S2 MATERIAL HANDLING STATION (MHS)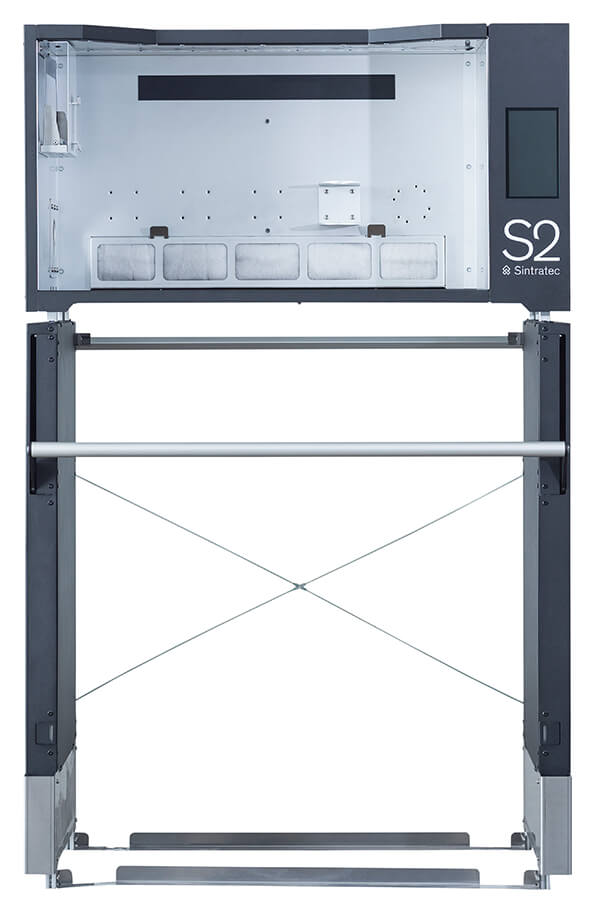 You no longer need additional equipment to reprocess used print material into ready-for-printing material – and it's all thanks to the efficient screening and mixing function in the Sintratec Material Handling Station. The freely accessible work area with an air filtration system gives you a clear view of the object to be depowdered and allows for a clean working environment.
No additional tools needed to screen the print material
High visibility when depowdering the parts
Touchscreen-based operation
Air filtration system
High-resolution camera for real-time monitoring
Touchscreen for direct operation
Network connection for remote control and monitoring
Integrated screening and mixing function
| | |
| --- | --- |
| Height × width × depth | 1,650 × 1,000 × 750 m |
| Weight | 60 kg |
| Power supply | 230 V | 5 A max | 50 – 60 Hz |
SINTRATEC S2 MATERIAL CORE UNIT (MCU)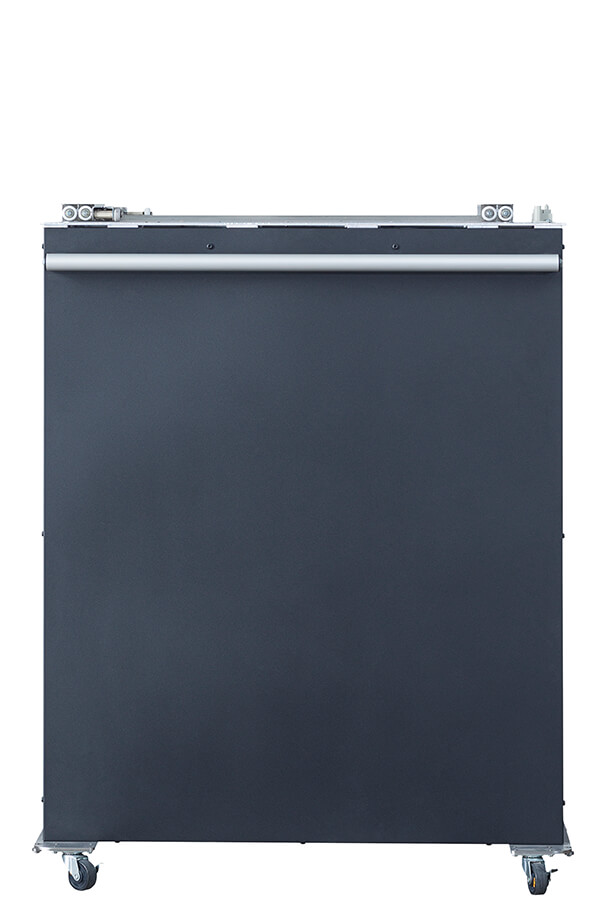 The mobile Sintratec Material Core Units with an integrated powder mixing function ensure convenient powder handling. Several units allow you to increase the material variety and reduce downtimes.
High level of process reliability
Integrated multi-zone heating for build cylinders
Two internal powder tanks for quick layer change
Integrated re-coating system (coordinated to powder)
| | |
| --- | --- |
| Build cylinder height | 400 mm* |
| Build cylinder diameter | 160 mm* |
| Height × width × depth | 1,100 × 870 × 530 mm |
| Weight | 60 kg |
* Effective printing range depends on the application and material. For example: The current Sintratec PA12 general print range is ca. 360 mm in height and 130mm in diameter, excluding the small area reserved for temperature sensing.