The free PONTOS Viewer allows for easily interchanging 3D measuring results and reports.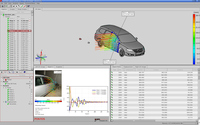 Instead of working with printed tables and 2D reports, the PONTOS Viewer supports the interaction between colleagues and customers with 3D visualizations of coordinates, displacements, accelerations and velocities.
With the PONTOS Viewer, GOM provides not only a free viewing tool for complete PONTOS projects but also a free working tool which allows the development engineer to perform his own problem-oriented analysis and thus freeing up measuring capacities.
All necessary functionalities are part of the PONTOS Viewer:
Creating further analyses
User defined legends
Handling CAD data for visualizations
Creating and exporting measuring reports and videos