Highest Data Quality
With its powerful light source, ATOS 5 delivers high-precision data for a diverse range of manual and automated applications: from tools and molds to plastic and metal parts. The GOM data quality is particularly evident in the detail sharpness of the 3D models, for example, in the precise display of smallest details, rib structures, narrow radii or hemmed edges.
Precision Through Innovation
Developed for industrial use, ATOS 5 delivers high-precision data in a short measuring time even under harsh conditions. The full-field 3D measuring data allows comprehensive process and quality control, visualizing hidden errors and thus speeding up production processes.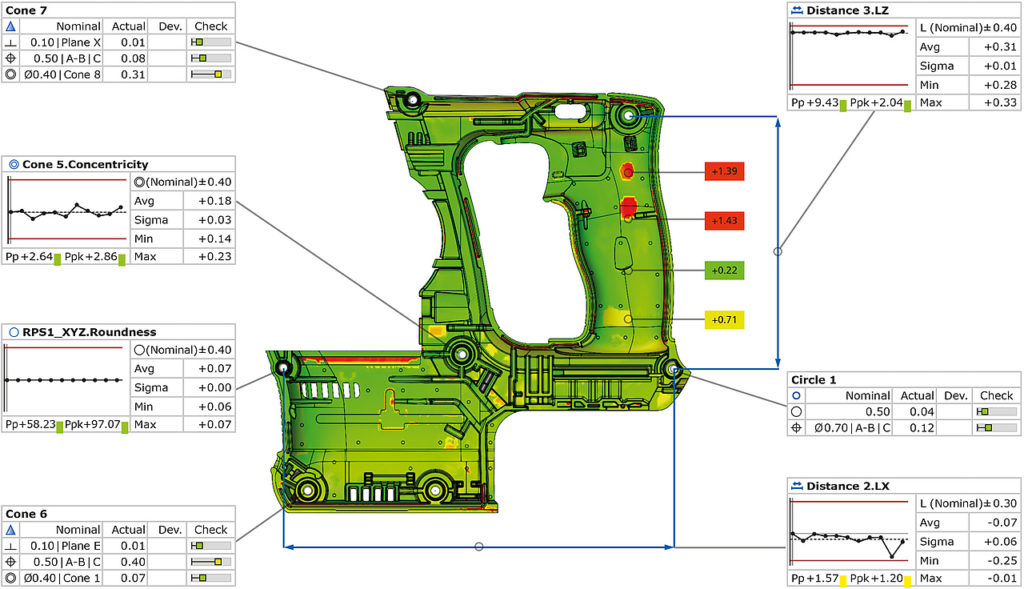 Blue Light Equalizer
Uniform non-coherent speckle-free light
Fast data processing
Industrial connectivity with fiber optical cables and robust connectors
Interference-free
Resistant to surrounding electromagnetic fields
Low noise level
Precise coverage of complex geometries
High detail resolution
Projection of very small fringes per unit area
High data throughput
Cable lengths up to 30 m
Intelligent sensor communication
Active temperature management
Bright LED light source
1.5 times brighter
High speed
More light and fast cameras allow for short exposure times on all surfaces. With 0.2 seconds per scan and 100 frames per second, ATOS 5 constitutes a high-speed 3D scanning system providing highest precision.
Process safety
ATOS 5 ensures safe processes through fiber optics and intelligent sensor communication, resulting in a completely self-monitoring system.