ATOS Triple Scan is a high resolution, optical digitizer that delivers rapid and precise three-dimensional measuring data for the optimization of design processes, thereby improving industrial production processes. ATOS sensors are used in many industries for the inspection of parts such as sheet metals, tools and dies, turbine blades, prototypes and injectionmolded and pressure die-cast parts.
Mobile 3D metrology
Manually, ATOS Triple Scan is used with a studio stand or a desk stand. For the semi-automatic use, a 3-axis motorization kit, including a lift module for the sensor and a Tilt and Swivel Unit for the fixture, is available. Mobile rotation tables enable simple automated measurement of small to medium objects. Furthermore the GOM Touch Probe allows point-based measurement of areas that are difficult to access optically.
ATOS Triple Scan in Use
Automated 3D metrology
In the standardized measuring machine ATOS ScanBox, ATOS Triple Scan is used for fully automated measuring and inspection of parts. The ATOS ScanBox is a complete optical 3D measuring machine that was developed by GOM for an efficient quality control in production and manufacturing processes. In the ATOS ScanBox models of series 5, 6, 7 and 8, ATOS Triple Scan can be extended with a Plus Box photogrammetry add-on. This allows bigger components or multiple parts to be measured simultaneously.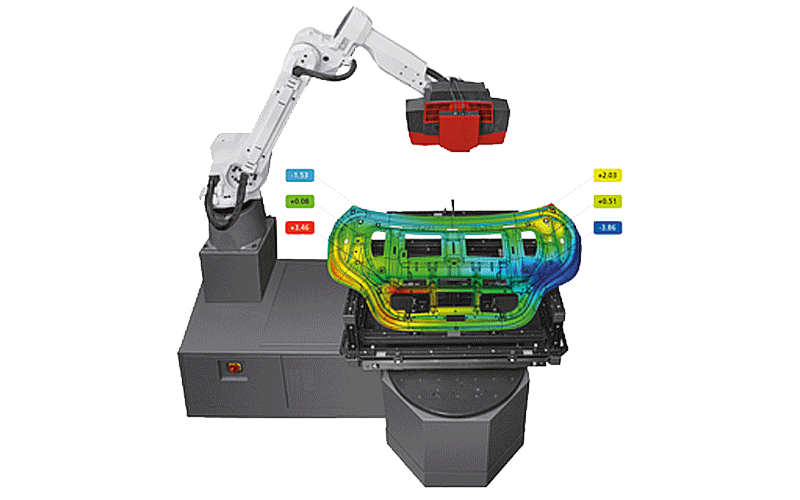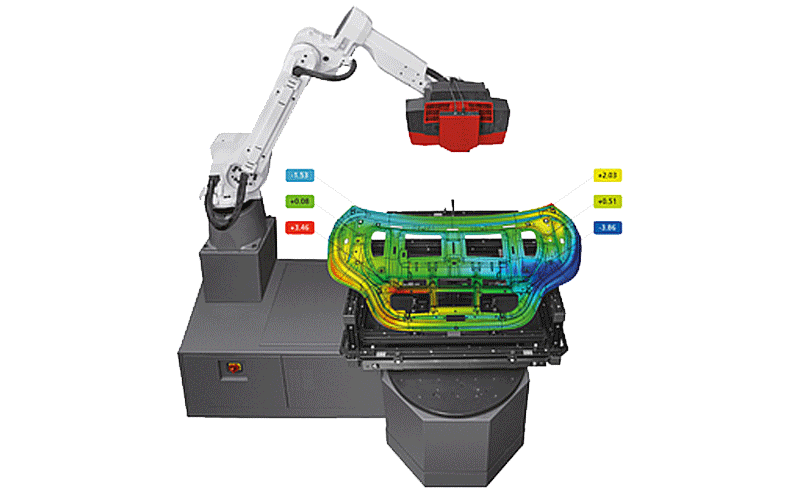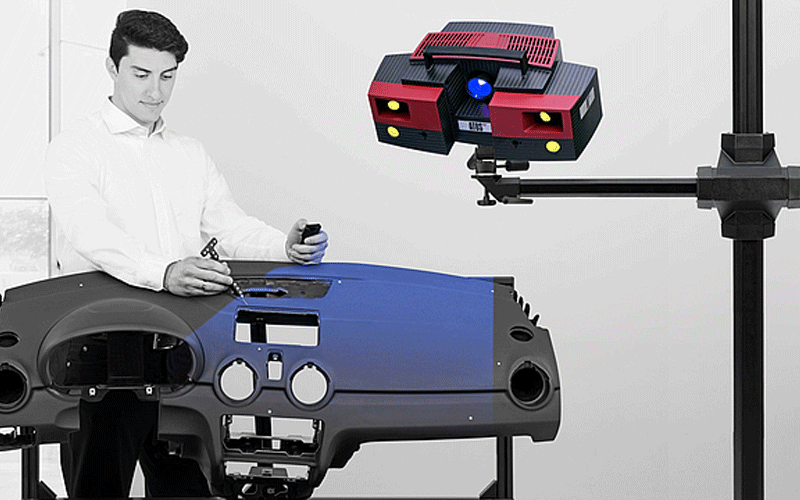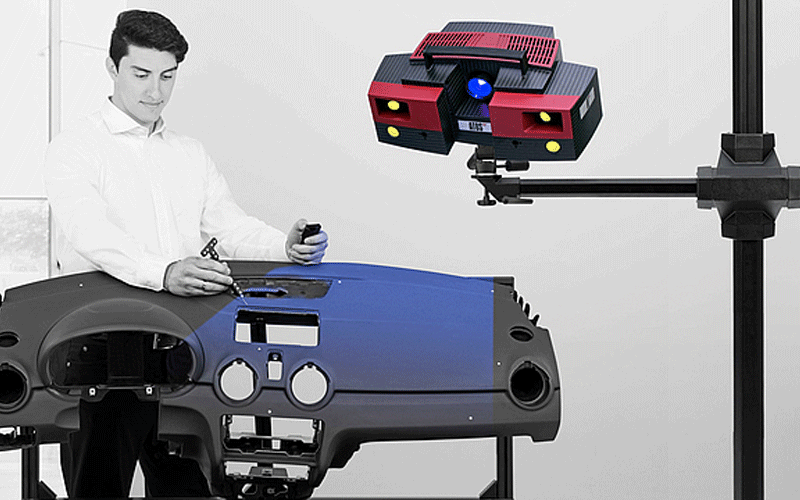 ATOS Triple Scan Technology
Precise fringe patterns are projected onto the surface of the object and are recorded by two cameras, based on the stereo camera principle. As the beam paths of both cameras and the projector are calibrated in advance, 3D surface points from three different ray intersections can be calculated: Visual beam camera / camera, visual beam camera on left / projected beam projector and camera on right / projected beam projector. This automatic principle offers advantages in measuring reflective surfaces and objects with indentations.
Blue Light Technology
The projection unit of the ATOS Triple Scan system is based on Blue Light Technology. Since the sensor works with narrow-band blue light, interfering ambient light can be filtered during image acquisition. Due to its powerful light source, short measuring times can be achieved.
Triple Scan Principle
Together with both cameras, the projection unit operates according to the triple scan principle. During the measurement, precise fringe patterns are projected onto the surface of the object and are recorded by two cameras, based on the stereo camera principle. This automatic principle offers advantages in measuring reflective surfaces or objects with complex indentations.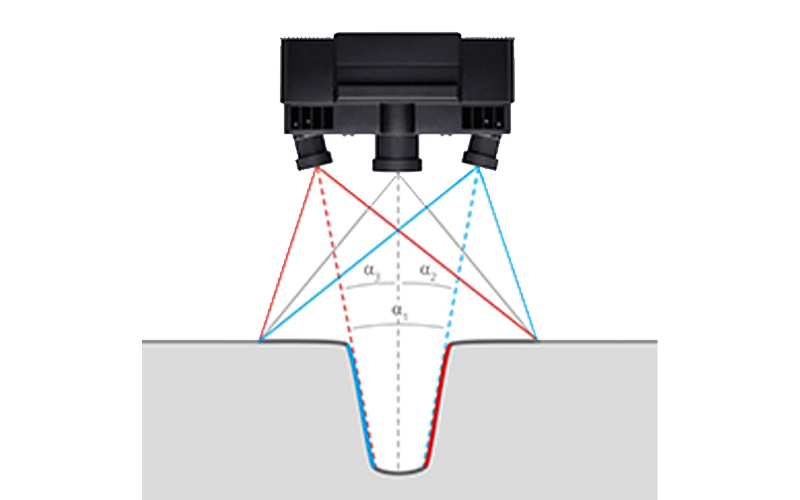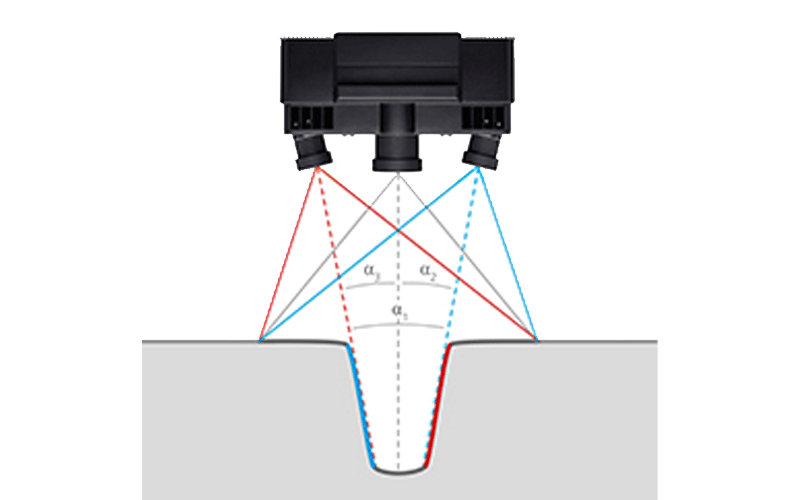 ATOS Plus
In GOM's automated measuring machines, ATOS sensors can be operated together with the Plus Box. The latter is a photogrammetric add-on sensor which can be directly attached to the ATOS system. This enables fully automated measuring of reference point markers with a deviation of 3 μm to 30 μm. These reference point markers create a 3D volume, into which the detailed individual measurements of the ATOS sensors are transformed automatically. This is how the overall accuracy of the overarching photogrammetric measurement is achieved.
Self-monitoring system
The sensor recognizes changing ambient conditions during operation and is able to compensate these changes. To do so, the software of the sensor is continuously monitoring the calibration status, the transformation accuracy, environmental changes and part movements to ensure the quality of the measuring data.


Parametric Inspection
The ATOS Professional evaluation software provides all necessary tools for a comprehensive analysis of parts and components. Using parametric inspection, all actions and evaluation steps are completely traceable and interlinked. Thus, changes and modifications are possible at any time.
Virtual Measuring Room
The virtual measuring room (VMR) is the central control station and measurement planning software for all elements of the ATOS measuring cells. It offers the functional representation of a real measurement environment in a virtual simulation. Due to the VMR, the user can work with the system without the requirement for specific robot programming skills. All robot movements are simulated and checked for safety before being performed in the virtual measuring room.