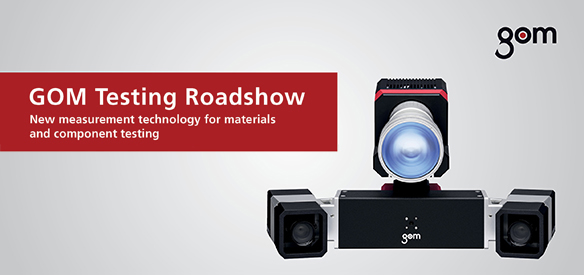 3D Measurement Technology Solutions for Point-based and Full-field Deformation Measurement
With the ARAMIS 3D Camera, ARAMIS Professional and GOM Correlate, GOM is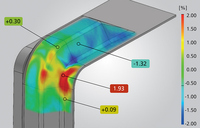 introducing its latest hardware and software solutions for materials testing as well as static and dynamic component testing. For the first time, the new ARAMIS is combining point-based and full-field deformation measurement in a single system.
The ARAMIS Professional software combines digital image correlation with 3D point tracking, enabling comprehensive analysis of 3D coordinates, displacement and strain. In the field of digital image correlation, GOM is introducing real-time measuring data display during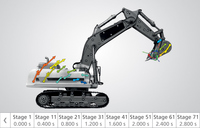 the test procedure while also presenting a new mathematical approach.
In a series of technical lectures and live workshops, GOM will be presenting new product models, the ARAMIS 3D Camera, functions of the GOM Testing Controller as well as image acquisition and evaluation features.
Dates and Venues
January 26, 2016, Leipzig
Mediencampus Villa Ida
Poetenweg 28
04155 Leipzig
Germany

January 28, 2016, Bergheim
Medio Rhein Erft
Konrad-Adenauer-Platz 1
50126 Bergheim
Germany

February 02, 2016, Stuttgart
arcona MO Hotel
Hauptstraße 26
70563 Stuttgart
Germany

February 04, 2016, Munich
Kulturzentrum Trudering
Wasserburger Landstraße 32
81825 München
Germany
At all sites, the Testing Roadshow starts at 10:00 a.m. and ends at around 3:00 p.m.
A snack will be served. The events will be held in German language.
ARAMIS 3D Camera
Stereo camera system
Blue Light Technology
Light management
Light projector
Tracking Spots
ARAMIS Professional
Digital image correlation
Live tracking
Predefined measuring sequences
Parametric software
Timeline-based inspection
GOM Testing Controller
GOM Correlate
Free evaluation software
Digital image correlation
3D motion analysis
Free 3D Viewer
Result sharing
Static and Dynamic Component Testing
3D measuring systems by GOM work non-contact and can be integrated completely into existing test facilities, test stands or testing machines. The systems measure static and dynamic deformation of material specimens under mechanical or thermal load, both point-based and full-field. Conventional strain gauges, transducers or extensometers are no longer needed.
Many years of experience in industrial metrology have culminated in the development of the new ARAMIS hardware and software as well as the free GOM Correlate software. This enables GOM to provide a solid basis for decisions in materials research, product development, design and manufacturing.