GOM provides a complete solution with the ARAMIS for measuring, evaluation and reporting.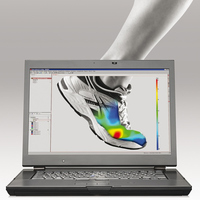 Please find more information about the ARAMIS system in the ARAMIS metrology system page.
GOM completely develops the ARAMIS hardware and software in house. The software is designed to run the sensor and controller, to process all measurements, to automatically compute result data and to perform post-processing.
ARAMIS is an industrial grade solution providing all necessary functionalities even for complex research tasks.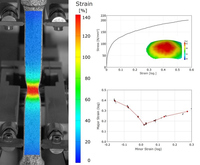 ARAMIS is integrated in standard process chains through versatile import and export capabilities. Material parameters, testing device outputs and data logs are imported and used for further calculation of characteristic values.
CAD data can be used for transformations and deviation calculations.
Native: Catia v4/v5, UG, ProE
General: IGES, STL, VDA, STEP
To close the process loop, all result data are exported in standard or free definable formats.
All workflows are available for automated use with a record and play procedure. New analysis models can easily be implemented by the operator and added to the standard evaluation as ARAMIS offers a scripting interface.
All built-in features enable ARAMIS to:
Integrate in existing testing and measuring workflows
Link with existing evaluation strategies
Adapt to any measuring and evaluation task
Features
Data Acquisition
Comfortable interface for different camera models
Flexible triggering of image aquisition (manual, time sequence, TTL signal or load signal from the experiment, …)
Import of images from external cameras
Integrated data logger and trigger box
Multiple measurement units can be triggered to grab images simultaneously or in sequence
ARAMIS Real Time Sensor, Live tracking of several facets and ellipses in 3D without image saving, 3D coordinates of several points are computed in real time on snapped images
Computation
Fast correlation computation over all loading stages
Automatic calculation of the 3D surface coordinates, 3D displacements (cartesian and radial coordinates) and the plane strain tensor
Calculation of stresses if the corresponding material data are known
Registration
Elimination of the rigid body movement
Registration of the captured data into predefined coordinate systems or into predefined geometrical elements (primitives)
Registration to CAD or STL
Combination of multiple measurement areas
STL and CAD Data Import:
STL data and CAD data, (CATIA V4/V5, Pro/Engineer, IGES, STEP, VDA, …)
Calculation of the deviation from measured data to reference data (points, distances)
Primitives
Primitives (spheres, cylinders, cones, planes, lines, …) can be generated from mesh data (certified by PTB and NIST)
Full featured geometry based analysis (Point-Point distance, Point-Plane distance, Angles, …)
Section Data
Definition of sections on 3D measurement data
Visualization of section data in diagrams
FEA Comparison
Native import of FEA data-sets (ABAQUS, LS-DYNA, PAM-STAMP, AutoForm and ASCII)
Full-field comparison of geometry, deformation, displacements and strain values Calculation and comparison of major and minor strain, thickness reduction, 3D shape/geometry, X, Y, Z displacements, …
Export of data-sets and results (surface data, ASCII, sections, diagrams, images, reports, …)
Documentation and Reporting
Result data overlay on captured images
Result visualization of strain images, graphical diagrams, analog signals, … in reports
Dynamically linked reports for live updating of results Variable and adjustable templates for reports
Result visualization in z-axis for easy comparison to FE-computation
Statistic functionality and exports
Export of results (ASCII, movies, images)
Forming Limit Curve (FLC)
Determination of forming limit curve based upon ISO 12004
Time or section based evaluation
Evaluation of complete measurement series
Automation
Macro functionality for easy recording, editing and launching of repetitive steps in image acquisition, post processing and data evaluation
Help
Automated parameter suggestions for all important functions
Online Help
Software Administration
All software features completely controllable with seperate administration licence
Adapt the software to company-specific workflows
Disable specific system menus and functions
Integrate user-defined scripts into menus
Lock system templates so that only company-specific templates are available
Block creation or editing of templates, scripts or automation protocols
Hardware
Direct interface with testing machines
Easily transportable systems