The ATOS ScanBox is a plug-and-play measuring cell for fully automated 3D digitizing and inspection. The ATOS ScanBox combines optimized industrial components, mobility and highest safety in an off-the-shelf 3D measuring machine.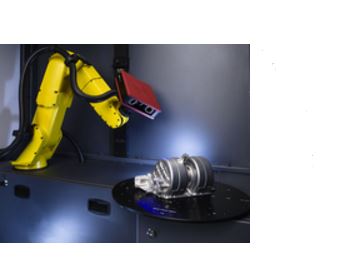 ATOS is the most innovative optical measuring system for three-dimensional coordinate measurement on the market. ATOS measures different object sizes, surface finishes, and complexities giving versatility to 3D digitizing by delivering:
Accurate 3D coordinates and high data quality
Full-field deviation to CAD, 2D and part-to-part
Section-based analysis, GD&T and trend analysis
Complete measuring reports
Coordinate Measurement Machine
The ATOS ScanBox is an optical 3D measuring machine with a comparable investment

volume to traditional CMMs. However The ATOS ScanBox delivers full-field surface measurement of small to large parts, easy to understand result visualizations, simple problem finding, and complete reporting.
Ready to Operate
The complete plug & play solution incorporates everything required for automated digitizing and inspection, no additional planning investment is necessary. All that is required on site is a single power socket.
ATOS – Industrial 3D Scanner
The built-in ATOS optical 3D scanner with integrated photogrammetry includes GOM's proven Triple Scan and Blue Light Technology. This new technology enables even higher detailed feature capture with faster measurement times for various part sizes, surfaces, finishes, and geometries, regardless of environmental lighting conditions.
Small footprint with large possibilities
Although the ATOS ScanBox only requires 11 m² floor space it is possible to measure parts up to 2 m. The ATOS ScanBox is also available in a smaller variation requiring only 5 m² for measuring smaller parts, and a larger version designed for simple crane and forklift loading of parts and components up to 3 m.
Mobile, automated quality control
The mobile, industrial ATOS ScanBox is quickly setup and requires no fixings to the factory floor or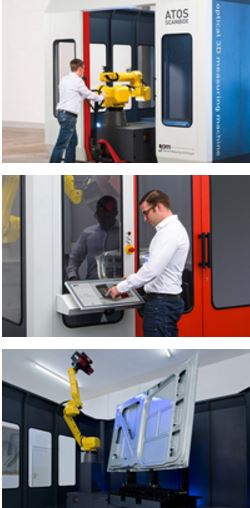 special measuring plates. The ATOS ScanBox can easily be transported from plant to plant or location to location thus supporting production ramp up or new product launches.
Complete solution, one single source
GOM's ATOS ScanBox is a complete solution from one single source; hardware, software, support, safety, documentation, … the result is a completely integrated solution using only proven, reliable industrial components, which have been specially optimized to work perfectly with each other.
Short delivery times
GOM's production setup allows delivery and installation of the ATOS ScanBox within a few weeks. Its setup does not require additional on-site planning. It features a complete declaration of conformity, documentation, training and world-wide local support, reducing implementation times and running costs.